Student & Youth Travel
Pre-show performances available at no additional cost!
Branson is the ideal location for student travel of all types! Centrally located in the United States, Branson boasts all of the key ingredients necessary for creating an exciting, successful student-friendly experience.
Young performers can showcase their talents in front of audiences on select Branson stages. Learning opportunities abound with specialized clinics and workshops. Of course, there is also an amazing amount of fun waiting for your student group! Theme parks, waterparks, inter-active museums, go-carts, mini-golf, and much more.
Looking for something different? How about a rainforest adventure, a massive replica of the Titanic or a wacky world of believe-it-or-nots? Branson has it all! You'll find great food and comfortable lodging, too.
Your students will love Branson and you will love Branson Tourism Center's Groups Department for making it all happen, start-to-finish and worry-free!
Branson is the fastest-growing student performance destination in America!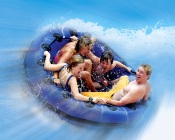 Branson has become a premiere destination for school groups, offering a variety of indoor and outdoor activities along with educational opportunities. The ability for students to perform a pre-show performance live on a Branson stage has enticed choirs, bands, dance teams, and many other kinds of student associations. We can arrange your pre-show performances, educational clinics, backstage tours, visits from performers, and much more, along with your lodging and other activities. Many shows and attractions offer great student rates to make Branson a destination that's affordable for any budget!
Premier Performance Opportunities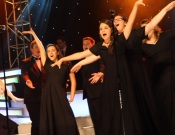 In Branson, student performing groups won't just watch the show, they will take the stages of our state-of-the-art theaters to be a part of the cast and crew for an incredible memory-making experience of a lifetime! Your student groups can be the pre-show entertainment performing on the same stages as some of Branson's biggest and brightest stars! In addition, our award-winning theme parks and exciting attractions afford exceptional performance settings. Only Branson offers this unique opportunity to draw on real-life performance experiences at such a professional and sophisticated level.
Student Groups at Top Theaters
Rare performance experiences are in store for student groups at the top theaters in the live entertainment capital. "Branson's Most Fun Place to Eat", Dolly Parton's Dixie Stampede, is one such venue which opens its doors to student band, vocal and dance groups, giving them the chance to perform before live audiences. Frequently throughout the year, Dixie Stampede showcases student groups for crowds of up to 1,000 people.
Here is what Dolly Parton had to say: "I'm thrilled to welcome student performers to my Dixie Stampede. There is just no experience like playing to a live audience on a real stage. It makes you feel like a star! That was one of my greatest joys as a young person."
Optional pre-show performances available at no extra charge!
Learn about the Entertainment Industry
Your student groups are able to benefit from the enormous variety and accessibility to the Branson entertainment industry through educational workshops, master classes, and behind-the-scenes programs with theater professionals.
More than 100 live shows - featuring world-class entertainment personalities, multi-talented performing families, specialty acts, impersonators, illusionists, comedians, and spectacularly large casts - make Branson the most entertaining place on earth to learn and grow!
Competitions and Festivals
Interactive musical competition experiences through nationally recognized band, choral, and orchestra festival companies abound in Branson throughout the year! Contact us for a complete list of festival names, dates, and locations.
Explore the History of the Area
The rich history of the Ozarks and Branson are reflected in the diversity of its businesses, attractions, museums, historical landmarks, craftsmanship, geology, landscapes, wildlife, and military contributions. All of these elements move students beyond the four walls of the classroom and experience the area for themselves, helping make the connections between the classroom curriculum and their own personal experiences.
Exceeding Your Expectations
Branson is famous for its warm hospitality, safe environment, and family values. Parents will never have to worry about what their kids will see when they visit Branson. It's a place where age is honored, youth is celebrated, and service to God and country is revered. Centrally located in the heart of America, we are less than a day's drive from half of the nation's population, making our destination very affordable to access.
Testimonials
Wonderful experience!... I will recommend Branson to the other faculty and sponsors. - Savanna Schools
We thoroughly enjoyed our time in Branson... Thank you so much for all your help. Every attraction was prepared to meet us and all went smoothly... We will definitely recommend your company to others in the future! Thanks again! - SHS Senior Class of 2007
Very easy to do business with, very pleased. - Jason (McAlester Band)
From the first time I spoke to a sales manager on the phone, I felt confident that what she was putting together for us would be wonderful. - Angie (Rythym Elite Cloggers from Texarkana, TX)
Student Group Photos
Click thumbnails to see a large version
FREE Download!
Click here to download a FREE brochure for
Student Groups.
Note: This brochure is in PDF format, to view you will need to have Adobe Reader installed. If you do not have Adobe Reader you may download it by clicking the button below:
Let us help you...
Bring your group to the fastest-growing student performance destination in the U.S.!
Let us help you plan your next student group trip to Branson...
Bands
Choirs
Orchestras
School Tours
Senior Class Trips
Cheerleaders
Drill Teams
Dance Teams
Athletic Groups
Festivals & Parades
Branson Tourism Center is a proud member of the Student Youth Travel Association (SYTA)