Branson Restaurants
Branson offers a variety of restaurants for groups to choose from with group menus that are all-inclusive which means your tax and gratuities are taken care of. If you are looking for something not listed just ask one of our agents and they will be happy to get the information for you. Along with group menus many restaurants offer private rooms and can accommodate many special requests. All you need to do is ask and we will do the work for you.
Fall Creek Steak & Catfish House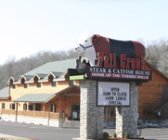 For more than 18 years Fall Creek Steak & Catfish House has been Branson's Home of the Tossed Rolls. Where melt-in-your-mouth fresh baked rolls fly through the air. Catch-em while they're hot!
Delicious home-style cooking and fast friendly service. Choose from hand-breaded and deep-fried catfish, hand-cut steaks, ribs, burgers, and more.
Florentina's Ristorante Italiano
Florentina's Ristorante Italiano! Chef created recipes in the tradition of old world Italy...sample a menu painstakingly crafted with the assistance of Chef Ron Kalenuik, also known as Chef K. Chef K has written 18 cookbooks, hosted a number of television shows and is renowned, award-winning restaurateur.
Dine with family and friends while enjoying the Italian traditions of food, friendship and hospitality! Homemade sauces, signature creations, authentic brick oven pizzas, an all new and inviting atmosphere...and so much more.
Golden Corral
Golden Corral's steaks are USDA inspected, cut fresh daily for better flavor and juiciness and are grilled to order. Also provided is a variety of menu items that are cooked at the grill station in front of guests. Grilled chicken, pork, salmon steaks, steak burgers, sausage, and more provide a constant variety of delicious grilled products for breakfast, lunch and dinner.
The Brass Bell Bakery and Dessert Café serves up fresh baked goods and tempting desserts each and every day. In fact, piping hot yeast rolls, delicious cookies and fudge brownies are baked fresh every fifteen minutes!
Greek Gyros & Deli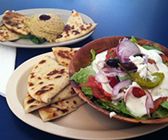 If you're looking for a small, family style deli in Downtown Branson search no further. Greek Gyros & Deli on Main Street will satisfy your palate with more than reasonable servings, and fair prices. Enjoy an authentic Greek Gyro, a Reuben Sandwich, Falafel, Hummas, Dolmades, Spanakopita or their delicious Prime Rib they serve on Fridays and Saturdays. Don't forget to grab a fresh cup of coffee and a delicious Bakalava, or Spumoni Ice Cream before you leave
Do yourself a favor and swing by Greek Gyros & Deli today!
Hard Luck Diner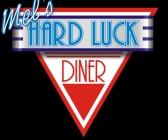 A visit to Branson is not complete without at least one meal from Mel's Hard Luck Diner, home of Branson's original singing servers. The diner's servers, hosts, cooks, and cashiers are also professional singers, song writers, and musicians. They offer you a great dining experience seasoned with a song!
Watch the cooks swiftly prepare breakfast, lunch, or dinner before your eyes! Choose one of your all-American favorites from the full service menu, which ranges from shrimp to country fried steak to pot roast. Top it off with one of Mel's famous Root Beer Malts and the biggest banana split in Branson!
Jackie B. Goode's Uptown Cafe
This place radiates style and good taste, and the food served here mirrors these qualities. Art deco chrome furnishings and decorations recall the 1940s and 1950s and create a laid-back atmosphere that local patrons return for time and time again.
You'll have a great time exploring the menu, there's a variety of sandwiches, soups, and other diner favorites!. The breakfast buffet is full of pancakes, fruit and incredible freshly baked breads and pastries.
Keeter Center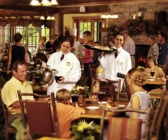 Whether it's a casual lunch, intimate dinner for two or an elegant private dinner party for 60, our culinary staff of students at Dobyns Dining Room offer something for every taste. Also, your Branson dining experience will be enhanced with student entertainment on Thursday through Saturday evenings from the wide range of musical talent on our campus. For the sweet tooth anytime of the day, our Bakery will satisfy any desire with pastries, desserts, homemade style ice cream, and a variety of coffee and fruit drinks.
Landry's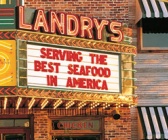 Exceptional seafood. Inviting atmosphere. Superb service. It's a winning combination for Landry's Seafood House, which offers guests a true taste of Gulf Coast tradition.Our menu features an array of sensational fresh fish and seafood selections – from mouthwatering entrées and appetizers to assorted salads and seafood platters.
New Orleans for landlubbers, Landry's offers tempting steaks and chicken delicacies. Attentive to seasonal and regional changes, our chefs are constantly introducing new and innovative items to the menu. And our wait staff is warm, welcoming and eager to serve you!
So drop your anchor at Landry's Seafood House soon. We promise you'll have a fun-filled and delicious dining experience!
Level 2 Steakhouse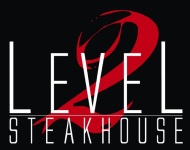 Located at the Hilton Branson Convention Center Hotel. Level 2 Steakhouse is the prime location in Branson for outstanding steaks. Experience world class service, an extensive wine list, signature cocktails and the best food in Branson in our hip, yet elegant dining room. L2 features Kansas City 28 day aged Certified Hereford Beef and the Midwest's freshest seafood flown in twice weekly from around the world. The beef is prepared in a 1600° radiant oven, sealing in the juices, while creating the perfect steak. Other features are an extensive list of sides, such as egg noodles and cheese, house cut sweet onion rings, steamed asparagus, and creamed spinach that are large enough to feed two. You'll want to save room for our special gooey butter cake. The chef has taken the Midwest's beloved cake and brought it to a whole new level. Once you taste it, you'll be hooked. Complimentary valet parking is provided.
Lone Star Steakhouse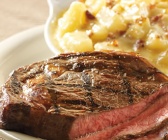 Lone Star Steakhouse restaurants deliver an authentic Texas themed experience, offering truly unique and flavorful food and outstanding service to every guest. What made Lone Star famous is our mesquite-grilled steaks, which are hand-cut fresh daily at each restaurant. Our menu includes "Texas-sized" portions of food and great value. Our menu offers great variety beyond steak … salmon, ribs, sandwiches, burgers and more.
We offer a great fun and casual atmosphere, perfect for any size group, and we also offer a fun full-service bar at all locations. Lone Star is a "destination restaurant." That is, if your destination is good food and big fun. Upbeat country music, Texas artifacts, and our excellent service standards enhance the Lone Star experience.
McFarlain's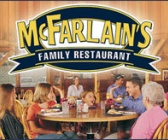 McFarlain's Family Restaurant is a Branson exclusive. This full-service restaurant, located inside Branson IMAX Entertainment Complex, is famous for its legendary Ozarks cuisine, homemade pies, unique atmosphere and entertaining hospitality!
McFarlain's Restaurant is decked out in hundreds of antiques, original works of art and photographs. A highlight among the coveted items are commissioned paintings by renowned artist Charles Sumey, featuring scenes from the film in different seasons and generations.
Montana Mike's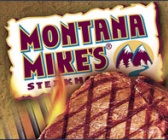 Montana Mike's is a chain steakhouse with the same owners as that of Sirloin Stockade and Coyote Canyon. Within a rustic mountain lodge atmosphere Mike's steaks are naturally-aged for 21 days then hand-cut right in the restaurant by their own butchers at the peak of flavor and tenderness, grilled to mouth-watering perfection!
Inside you can eat, drink and be merry, relishing authentic Australian cuisine, selecting from a menu of thick steaks, grilled snapper, lamb chops, grilled chicken and seafood, alligator tail, and thirst quenching drinks. Dine indoors or outside on the enclosed veranda.
The Outback
Situated on the property for your convenience is the Outback Steak and Oyster Bar. Inside you can eat, drink and be merry, relishing our authentic Australian cuisine, selecting from a menu of thick steaks, grilled snapper, lamb chops, grilled chicken and seafood, alligator tail, and thirst quenching drinks. Dine indoors or outside on our enclosed veranda.
Paradise Grill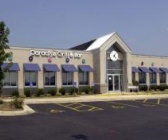 This restaurant takes traditional mountain cooking and adds a little flair and modern culinary style. Uniquely decorated your family or group will feel at home in this location. Located on Shepherd of the Hills Expressway between the Shoji Tabuchi Theatre and the Cascades Inn , the restaurant is one of the more popular diners along the northern fringes of the city.
Pizza World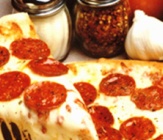 Pizza World is the first business venture to combine the exciting new concept of world class gourmet pizzas with the speed, efficiency and convenience of traditional pizza delivery restaurants. We offer a fine dining experience delivered to the customer's door or enjoyed right in the store, exceptional quality, freshness, choice and value all within a highly efficient delivery system.
Plaza View Restaurant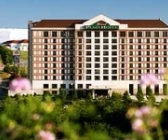 The Plaza View Restaurant is located at the top of the Branson Grand Plaza Hotel and offers a magnificent view of the city. Along with excellent entrees and appetizers, Plaza View offers a variety of fine wines and cocktails.
Restaurant open Weds thru Saturday 11:00 am to 9:00 pm. Lounge open 11:00 am to Midnight.
Stage Door Cafe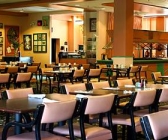 From light appetizers to full-course meals, the Stage Door Restaurant offers great quality food at affordable family prices. Be tempted by our enormous buffet, or enjoy the variety of our menu. Whether for breakfast, lunch or dinner, the Stage Door Restaurant is just the spot for anymeal! Branson's only smoke free lounge, we invite you to stop by our lounge anytime for a refreshing cocktail, specialty beer, wine, or a non-alcoholic beverage. Stay a while and enjoy a snack, sandwich, or dinner.