Most Popular Shows
Amazing Acrobats of Shanghai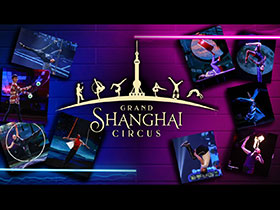 "Amazing Acrobats of Shanghai" - when it comes to Branson excitement, this show sets the standard! You'll see acrobatic feats so phenomenal; you won't believe your eyes! The striking colors, the exotic glamour, and the unbelievable skill of each spellbinding feat make the "Amazing Acrobats of Shanghai" an ideal, family-friendly show!
Amazing Pets
Branson's "Amazing Pets" features delightful circus-like acts with an impressive cast of creatures! Cats galore, cuddly canines, and even brilliantly colored exotic birds put on a show sure to delight kids of all ages! It's a bit of magic, a touch of mayhem, and a whole lot of furry frivolity! It's "Amazing Pets"...it's fantastic family fun...and it's only in Branson!
Andy Williams Ozark Mountain Christmas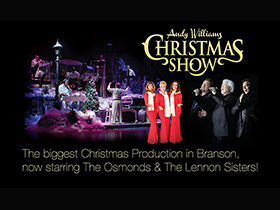 Branson's most popular Christmas show is back in 2018! For our 26th season, the legacy continues, starring The Lennon Sisters every show and hosted by Jimmy Osmond on select dates. Great variety, singers, dancers, and the Moon River Orchestra… all performing your favorite holiday songs! Also featuring Andy's favorite specialty act, Pasha and Aliona… The Lennon Granddaughters, Britain's Got Talent singing sensation Charlie Green, America's Got Talent dynamic trio "Voices of Glory."
Branson Murder Mystery Dinner Show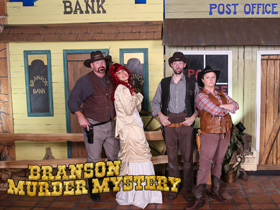 Branson Murder Mystery presents a NEW SHOW for 2018 "Murder on the 76 Trail," and gives Branson a hilariously live dinner theater experience! "Murder on the 76 Trail," takes place in Branson somewhere around 1898. Everyone is getting ready for the town vote when suddenly there is a mysterious death. This is where the story and the insanity, begins!
Clay Cooper's Country Express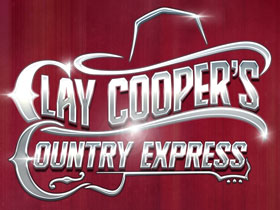 Clay Cooper's Country Express offers high-energy live music, singing, dancing, and hysterical comedy – Clay Cooper shares the stage with 24 entertainers, whose unbelievable talent, hysterical comedy, and down-home personality bring our guests back time and time again.
Comedy Jamboree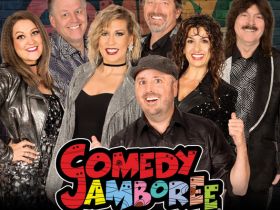 Branson's "Comedy Jamboree" is an electrifying extravaganza of music and mayhem...is there anything more fun than a live show that has everything? With a cast of lovable and eclectic comedic characters and talented musical artists, this is the show you'll bring the whole family to see! You'll be delighted by Applejack, Adam, Stretch McCord, the Grand Band with the Jamboree Singers, and piano genius, Tracy Heaston.
Decades (Pierce Arrow)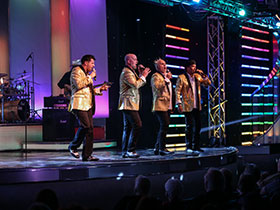 Featuring the Pierce Arrow quartet and 2017 Comedian of the Year James Sibley, comes the brand new production Decades. Take a one-of-a-kind musical and comedy journey through the 50's,60's,70's,and 80's with the show Pierce Arrow. Comedic visits by Elvis, James Brown, and Ozzy Osbourne are just a taste of whats to come from Branson's funniest comedian and 2017 Comedian of the Year. Decades is nothing but fun from start to finish and must see during your time in Branson!
Dolly Parton's Stampede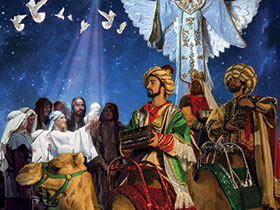 Dolly Parton's Stampede is the perfect family destination in Branson for exciting entertainment and a fantastic, hope-you're-hungry, four-course feast! Featuring a rousing new overture highlighted by an amazing 150-foot LED video wall, 32 magnificent horses and a cast of top-notch riders, Dolly Parton's Stampede will thrill you with daring feats of trick riding and competition.
Down Home Country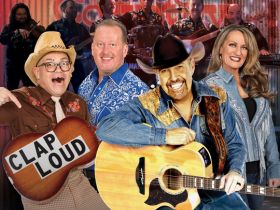 Branson's "Down Home Country" is country music at its downright best! And it's not just country; these immensely talented singers and pickers give you a taste of gospel, bluegrass, and western swing as well. Jamie Haage, Melody Hart, and comedian Jarrett Dougherty are joined by the Grand Band to give you a rousing great time!
Fun Spot Farm Mini-Golf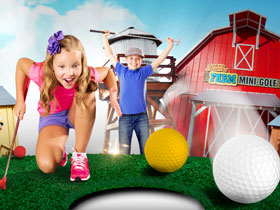 At Grand Country's "Fun Spot Farm Mini Golf" guests will feel like they are home on the farm, right on the famed Branson Strip! Two different 18 hole courses feature life size whimsical and animated farm animals, a milk shed, water tower, horse barn, ponds, windmill, outhouse and a chicken coop. Sensors will bring this outdoor course to life by setting off sound effects and animations throughout the game.
Grand Jubilee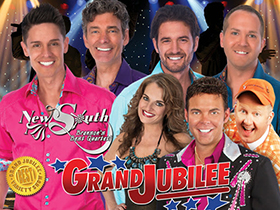 With "Grand Jubilee," all the key ingredients are there in abundance...great vocalists, masterful musicians, comic geniuses, and unforgettable family-friendly fun...get your seats reserved now for a live show of grand proportions...Branson's "Grand Jubilee!"
The Haygoods
"The Haygoods," with more than 25 years of experience, is an amazing Branson experience! Excellent choreography, exquisite harmonies, state-of-the-art sound and special effects, a delightful sense of humor, and energy that never quits, you get it all in one show from one phenomenal family! It's easy to see why "The Haygoods" pack the house night after night!
Hughes Brothers Christmas Show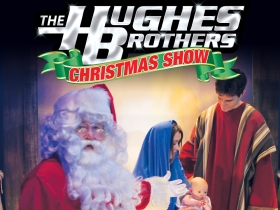 The "Hughes Brothers Christmas Show" has quickly become a holiday favorite among scores of dazzling Branson productions! It features the popular Hughes boys and their enormous, extended family of children and spouses, all backed up by a brilliant live band and jam packed with singing, dancing, holiday humor, and a special visit from Santa, who'll explain the meaning behind the symbols of Christmas.
Hughes Music Show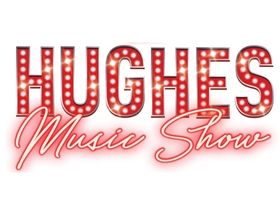 "Hughes Music Show" fills the Branson stage...literally! More than 50 members of the Hughes clan employ a wide array of musical gifts, including magnificent dance moves, exceptional skill on a variety of instruments, and vocals highlighted by impeccable harmonies.
A Janice Martin Cirque Show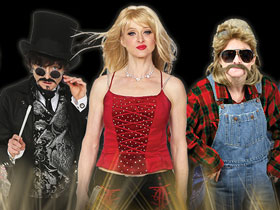 In the all new "Janice Martin Cirque Show," Janice Martin captivates as the world's only aerial acrobatic violinist performing jaw-dropping feats high in the air - while masterfully astonishing audiences with her amazing violin playing. Hear world-class level performances of cirque, pop, country, rock, magic, comedy and symphony that transport the audience to another realm, creating an amazing, delightful experience!
Mickey Gilley & Johnny Lee - The Urban Cowboy Reunion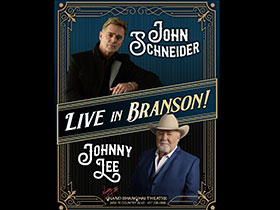 When "The Urban Cowboy Reunion" comes to Branson, you won't want to miss it! Two country music legends, "Mickey Gilley" and "Johnny Lee," will give you a night to remember as they bring back some of their chart topping songs and share memories of the 1980 hit movie, Urban Cowboy.
Million Dollar Quartet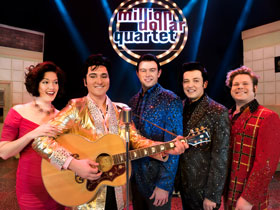 BACK FOR A SMASH-HIT FOURTH SEASON! Returning in 2018, after another fan-raving season, the Welk Resort Theatre is proud to present MILLION DOLLAR QUARTET, an incredible music experience!
Oak Ridge Boys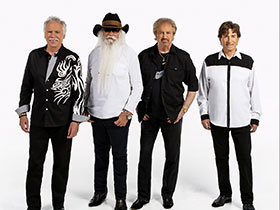 The "Oak Ridge Boys" return to Branson, bringing their huge catalog of hit country, pop, and gospel songs! Five Grammys, numerous CMA, ACM, and Dove Awards, and an unbelievable number of hits make this the Branson show to see! Their biggest songs include Elvira; Bobbie Sue; Touch a Hand, Make a Friend; Make My Life with You; American Made; (I'm Settin') Fancy Free; and It Takes a Little Rain (To Make Love Grow).
Raiding the Country Vault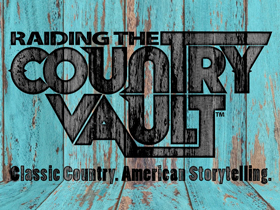 "Raiding the Country Vault" brings together musicians from country music's most iconic acts to play the biggest hits of America's most beloved genre, featuring country music's most renowned favorites by legendary artists including: Conway Twitty, Patsy Cline, Johnny Cash, Buck Owens, Charlie Daniels Band, Willie Nelson, Waylon Jennings, Garth Brooks, Dolly Parton, Dwight Yoakam, George Strait, and many, many more.
Reza Edge of Illusion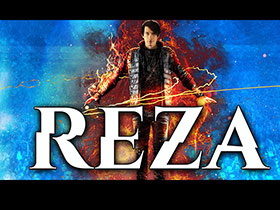 "Reza - Edge of Illusion" delivers wonderful magic in Branson! Everyone loved Reza when he first performed here; he's back with his own show, and ready to bewilder and befuddle your brain with everything from big dazzling illusions to charming sleight-of-hand trickery. Reza's fresh, cutting edge, and out to change the world's perception of magic.
Samson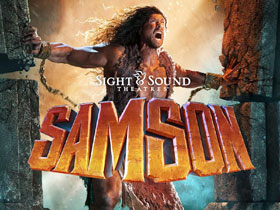 As "Samson" battles the Philistines - and his own personal calling - he soon falls prey to temptation, losing his strength and sight. But has he lost hope? He's a frequent failure, an underachieverâ€"yet in the New Testament book of Hebrews "Samson" is included on the all-star list of faith. How could this be? Discover how God transforms this unwilling hero to accomplish His work.
Showboat Branson Belle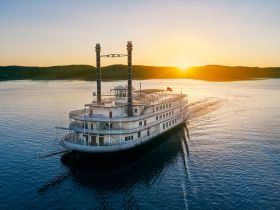 "Showboat Branson Belle" invites you to come aboard for a sensational lake cruise, with excellent entertainment and a superb three-course meal. The show is phenomenal, and there's a variety of seasons and times from which to choose. Join America's Celebration of Family when Celebrate returns to the "Showboat" stage!
Silver Dollar City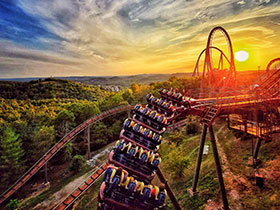 "Silver Dollar City"...when it comes to phenomenal, world-class theme parks, it doesn't get any better than Branson's biggest attraction! Live music, thrilling rides, demonstrating craftsmen, incredible food, exceptional shopping, amusements for the little ones, seasonal and themed festivals and events, and even more awaits you!