Most Popular Shows
Acrobats of China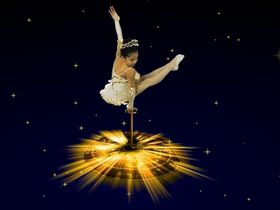 The "Acrobats of China Featuring New Shanghai Circus" gives Branson audiences the most electrifying and unforgettable performance they'll ever witness...it's purely magical! This high energy production features an exciting array of spectacular acrobatic feats, the kind of stunts that'll have you biting your nails and holding your breath!
Amazing Pets
Branson's "Amazing Pets" features delightful circus-like acts with an impressive cast of creatures! Cats galore, cuddly canines, and even brilliantly colored exotic birds put on a show sure to delight kids of all ages! It's a bit of magic, a touch of mayhem, and a whole lot of furry frivolity! It's "Amazing Pets"...it's fantastic family fun...and it's only in Branson!
AYO starring Voices of Glory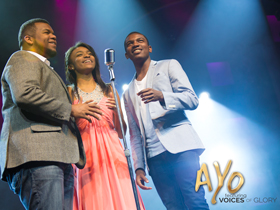 "AYO starring Voices of Glory" in Branson showcases the famous Cole siblings, Michael, Avery, and Nadia, the talented and captivating youngsters whose career was launched when America's Got Talent's television audience voted them into the Top 5. It wasn't only their impressive vocal abilities that captured hearts across the country; it was their irresistible charm, endearing politeness, and pure joy of performing!
Branson Country USA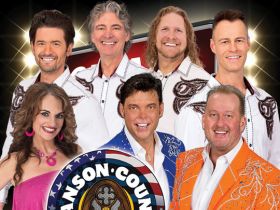 "Branson Country USA" is the show custom-made for anyone looking for a fabulous Friday night out! The talented cast of performers can't be beat, and this incredible show is also broadcast nationwide on television and radio. Enjoy the talented quartet, New South; vocalists Jackie Brown and Melody Hart, and co-hosts Mike Patrick and Jamie Haage as Jim Dandy, along with special guest stars.
Buckets N Boards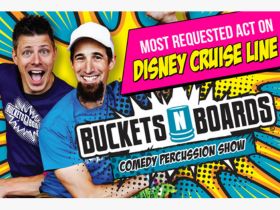 "Buckets N Boards Comedy Percussion Show" delivers Branson entertainment that easily stands out in a long list of excellent shows! Co-creators, Matt Levingston and Gareth Server, share their impeccable and slightly wacky skills that include precise percussion on a variety of surfaces, accompanied by delightfully silly songs, tap dancing, and lots of laughter!
Clay Cooper's Country Express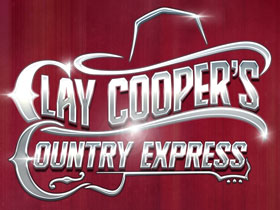 "Clay Cooper's Country Express" is a must-do for every visit to Branson! Headlined by Branson veteran artist, the incomparable Clay Cooper, this is one variety show that brings the music and fun in spades; it features some of Branson's most talented artists, including Tina, Colt, and Caden Cooper; Johnny Lonestar, Ezrah Noelle, comedian Matt Gumm, and a live band!
Comedy Jamboree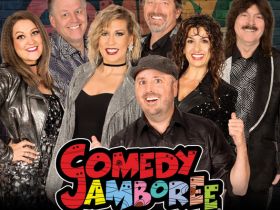 Branson's "Comedy Jamboree" is an electrifying extravaganza of music and mayhem...is there anything more fun than a live show that has everything? With a cast of lovable and eclectic comedic characters and talented musical artists, this is the show you'll bring the whole family to see! You'll be delighted by Applejack, Adam, Stretch McCord, the Grand Band with the Jamboree Singers, and piano genius, Tracy Heaston.
Dolly Parton's Stampede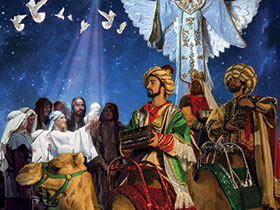 Dolly Parton's Stampede is the perfect family destination in Branson for exciting entertainment and a fantastic, hope-you're-hungry, four-course feast! Featuring a rousing new overture highlighted by an amazing 150-foot LED video wall, 32 magnificent horses and a cast of top-notch riders, Dolly Parton's Stampede will thrill you with daring feats of trick riding and competition.
Down Home Country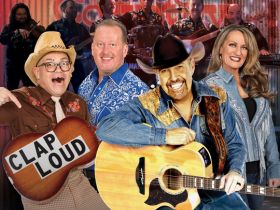 Branson's "Down Home Country" is country music at its downright best! And it's not just country; these immensely talented singers and pickers give you a taste of gospel, bluegrass, and western swing as well. Jamie Haage, Melody Hart, and comedian Jarrett Dougherty are joined by the Grand Band to give you a rousing great time!
Grand Jubilee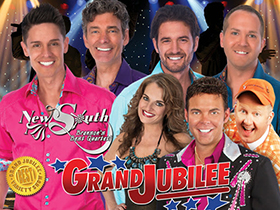 With "Grand Jubilee," all the key ingredients are there in abundance...great vocalists, masterful musicians, comic geniuses, and unforgettable family-friendly fun...get your seats reserved now for a live show of grand proportions...Branson's "Grand Jubilee!"
The Haygoods
"The Haygoods," with more than 25 years of experience, is an amazing Branson experience! Excellent choreography, exquisite harmonies, state-of-the-art sound and special effects, a delightful sense of humor, and energy that never quits, you get it all in one show from one phenomenal family! It's easy to see why "The Haygoods" pack the house night after night!
Hughes Brothers Christmas Show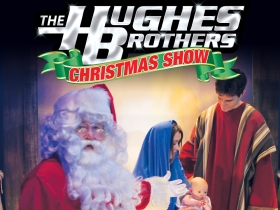 The "Hughes Brothers Christmas Show" has quickly become a holiday favorite among scores of dazzling Branson productions! It features the popular Hughes boys and their enormous, extended family of children and spouses, all backed up by a brilliant live band and jam packed with singing, dancing, holiday humor, and a special visit from Santa, who'll explain the meaning behind the symbols of Christmas.
it starring the Hughes Brothers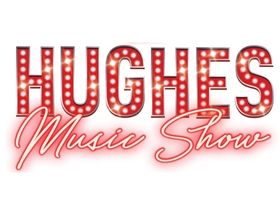 "it Starring the Hughes Brothers" fills the Branson stage...literally! More than 50 members of the Hughes clan employ a wide array of musical gifts, including magnificent dance moves, exceptional skill on a variety of instruments, and vocals highlighted by impeccable harmonies.
Main Street Lake Cruises Landing Princess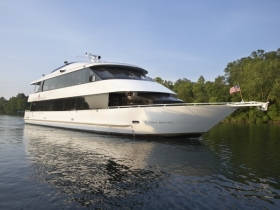 "Main Street Lake Cruises' Landing Princess" offers Branson's only luxury cruise on beautiful Lake Taneycomo! This captivating one-and-a-half hour dinner cruise takes place aboard a 100-foot yacht with a well-stocked cash bar, lovely dining and reception areas, two full-sized restrooms, and glass-enclosed decks perfect for viewing the scenery.
Main Street Lake Cruises Lake Queen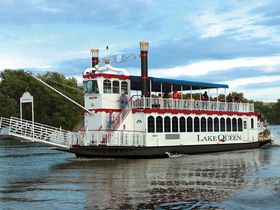 "Main Street Lake Cruises' Lake Queen" is the perfect way to enjoy time on the lake in Branson! On a "Lake Queen" lunch cruise, you'll have access to a climate-controlled lower deck, an open-air upper deck, and restrooms. The captain shares information about the lake, landmarks, and wildlife you may encounter, including the majestic bald eagle.
Million Dollar Quartet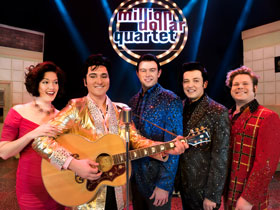 "Million Dollar Quartet" captures the infectious spirit and thrilling sounds of a singular moment when four of the music industry's most extraordinary talents - Elvis Presley, Johnny Cash, Jerry Lee Lewis, and Carl Perkins - came together for one of the most memorable nights in music history!
New South Gospel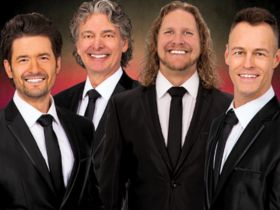 Ozarks Country
When the sun goes down, the fun is just beginning on "Ozarks Country." Featuring long time Branson favorites, Tammy and Tonya Bilyeu this show celebrates country classics of yesteryear combined with today's hot country hits.
Ozarks Gospel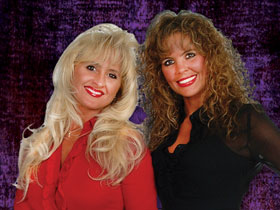 It's just not Sunday without the sweet harmonies and hand-clapping excitement of the good old Southern Gospel music show "Ozarks Gospel"! When Tammy and Tonya Bilyeu take the stage to perform your toe-tapping gospel favorites it's sure to be an uplifting time.
Presleys' Country Jubilee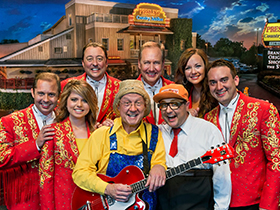 Branson's "Presleys' Country Jubilee" has kept audiences delightfully entertained for more than 50 years! Instrumental in helping to create the live show industry in Branson, this fabulously gifted family continues to thrill their loyal and newfound fans alike with spectacular country and gospel music, and the clever comedy antics of Herkimer and Cecil!
Raiding the Country Vault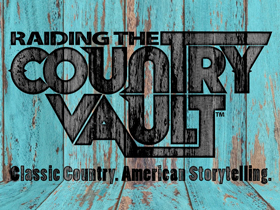 "Raiding the Country Vault" brings together musicians from country music's most iconic acts to play the biggest hits of America's most beloved genre, featuring country music's most renowned favorites by legendary artists including: Conway Twitty, Patsy Cline, Johnny Cash, Buck Owens, Charlie Daniels Band, Willie Nelson, Waylon Jennings, Garth Brooks, Dolly Parton, Dwight Yoakam, George Strait, and many, many more.
Showboat Branson Belle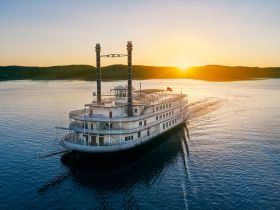 "Showboat Branson Belle" invites you to come aboard for a sensational lake cruise, with excellent entertainment and a superb three-course meal. The show is phenomenal, and there's a variety of seasons and times from which to choose. Join America's Celebration of Family when Celebrate returns to the "Showboat" stage!
Silver Dollar City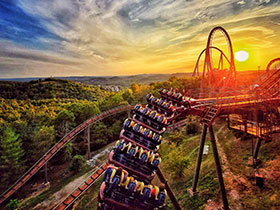 "Silver Dollar City"...when it comes to phenomenal, world-class theme parks, it doesn't get any better than Branson's biggest attraction! Live music, thrilling rides, demonstrating craftsmen, incredible food, exceptional shopping, amusements for the little ones, seasonal and themed festivals and events, and even more awaits you!
SIX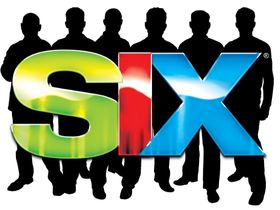 "SIX" - for thousands of Branson visitors every year, that one word alone defines a complete entertainment experience! Sensational harmonizing, fascinating instrumental sounds straight from their mouths, six brothers brimming with talent, polished professionalism, and a healthy dose of mirth and merriment, they'll entertain and charm you right from the opening note!
The Texas Tenors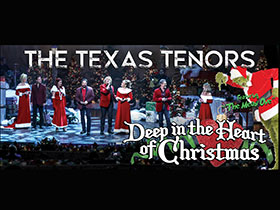 "The Texas Tenors," the extremely talented and exceptionally charming trio of handsome troubadours, continue to be one of Branson's favorite acts! "The Texas Tenors" Deep in the Heart of Christmas," is a sensational holiday show designed to bring out that feeling of a traditional family Christmas with singers, dancers, and a real Christmas choir.